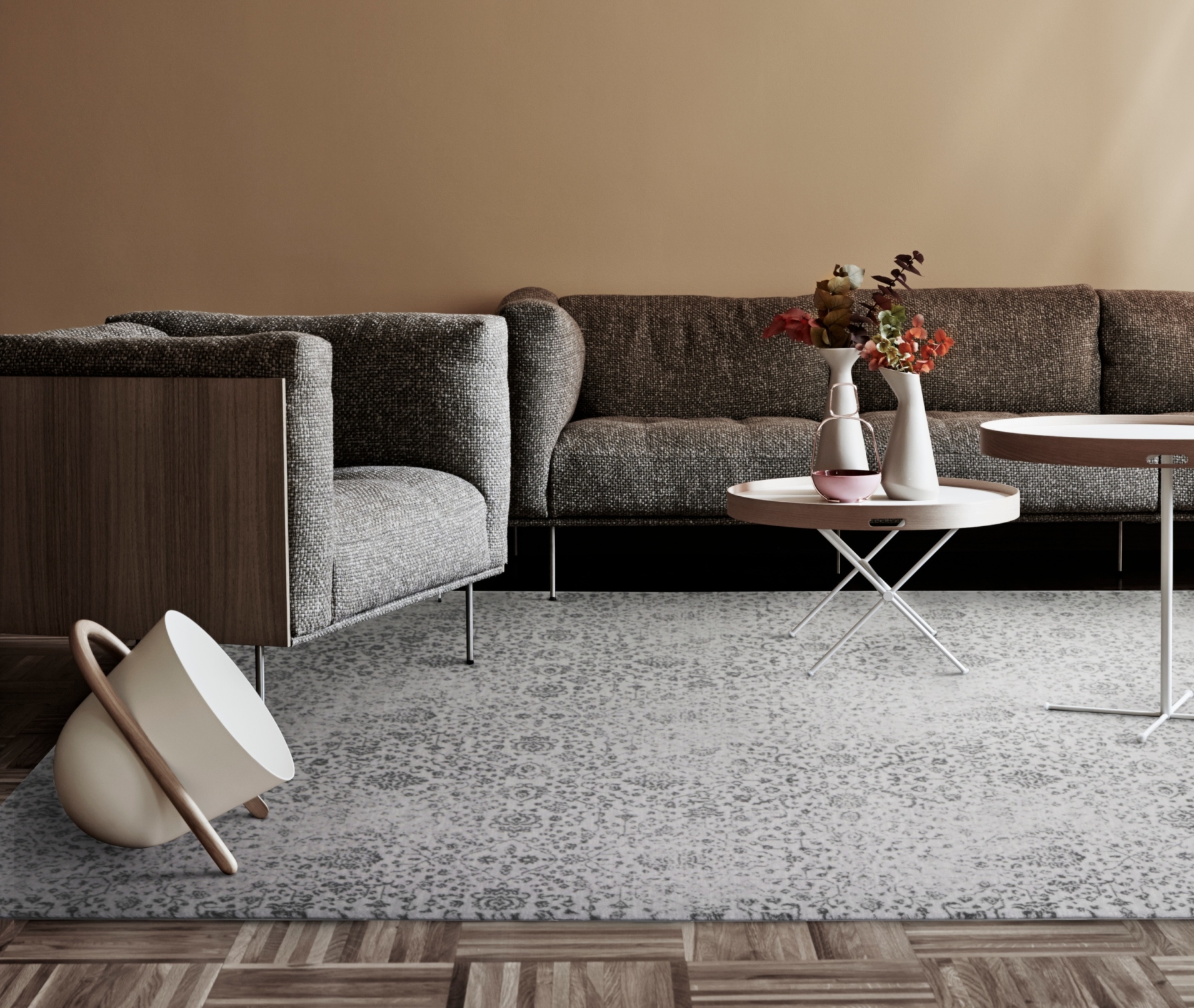 Ultimate Grey – the grey rug for your interior
Ultimate Grey, or calming grey, is one of the two colours of the year 2021, according to the internationally renowned Pantone Institute. Shades of this universal colour have already been both a background and a toning accent in many interior designs for a long time. Therefore, we could not skip grey in our rug collection – after all, grey has more than one name, which is proven by the rugs that will perfectly complement the interior of your home.
Fashionable greys – recommendations from Agnella
The biggest advantage of grey rugs is the fact that their beauty can enrich any style – from classic arrangements, through modern concepts, to luxurious glamour interiors. It is a colour whose potential is enhanced by wool – a timeless material, bringing warmth and cosiness to the living environment. When opting for shades of grey, it is also worth considering choosing a pattern to match the project.
A richly ornamented alabaster YOKO rug from the Calisia collection, with floral ornaments bringing a touch of elegance to the interior, will be perfect for classic spaces. To complement the harmony of the traditional style, choose the platinum CLAUDINE model from the Agnus collection, with light colour transitions that will give the classics a whole new dimension. It is also worth noting the highly decorative, but still classic MATILDA rug from the Agnus collection, in graphite.
When it comes to glamour style arrangements, you will find a real gem in our designs, the extremely elegant and tempting KLARO rug with ornaments from the Galaxy collection, whose exclusivity is intensified by the use of two types of pile – cut and loop, giving it an additional three-dimensional effect. The ALFRED pattern from the Agnus collection, reminiscent of marble surfaces, and the ashen MADISON model from the Calisia M collection, with an unobvious medallion ornament, will also fit in perfectly with luxury interiors.
Modern style – a rug for the room with minimalist feel
Grey dominates living spaces – this is an undeniable fact. This muted colour brings a touch of modern elegance to any design, and our wool rugs match perfectly with all of its shades. Alongside this shade, homes are also dominated by modernity – innovative, functional, designer and often minimalist.
And it is this minimalism that often makes it hard to match a wool rug with the modern décor. Our offer also faces this dilemma, providing you with stylish and well-chosen designs. These include the light grey BEVERLY rug from the Calisia collection, which features a distinctive ombre motif, and the alabaster FAM model from the Calisia M collection, which is reminiscent of the desert wilderness. Also worth mentioning is the CURSAMA pattern from the Galaxy collection, with its grey softness.
Ultimate Grey and our wool rugs are a trendy combination that will work in any setting, complementing it with a bold pattern or, on the contrary, providing the perfect backdrop to its design frenzy.